Chicago Calling: Art Against the Flow
Chicago Wellesley Friends of Art at the Davis
Invites you to join us for an Art Design Chicago exhibition
Chicago Calling: Art Against the Flow
Sunday, November 11, 2018, at 1:00 PM
Intuit: The Center for Intuitive and Outsider Art
756 N. Milwaukee Avenue, Chicago
(312) 243-9088
Admission is $5 and open to all Wellesley Alumnae and guests. Intuit is located across the street from the Chicago Avenue Blue Line subway stop. Intuit provides discounted parking to museum visitors via Spoke Apartments across the street. RSVP to Carlyle Madden at ckmadden27@gmail.com. Questions: 773.620.6677 https://www.wellesley.edu/davismuseum/joinandsupport/membership/about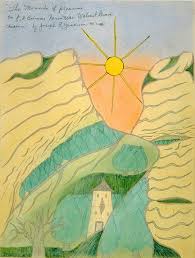 Joseph Yoakum (American, 1886-1972)
The Mounds of Pleasure..., 1970
Ink and pastel on paper, 15 3/8 x 11 3/4 in.
Richard and Ellen Sandor Family Collection
Chicago Calling: Art Against the Flow explores Chicago's history of robust recognition and acceptance of self-taught art and artists. The exhibition presents intrinsic themes embodied in the works of 10 Chicago artists: Henry Darger, William Dawson, Lee Godie, Mr. Imagination, Aldo Piacenza, Pauline Simon, Drossos Skyllas, Dr. Charles Smith, Wesley Willis, and Joseph Yoakum. Culled from 30 collections, the exhibition explores the commingled histories of the ten artists, and the artists, educators, curators, dealers, collectors, and appreciators who comprised the culture of receptivity in Chicago, and embraced their work.
Part of Art Design Chicago, an exploration of Chicago's art and design legacy, an initiative of the Terra Foundation for American Art with presenting partner The Richard H. Driehaus Foundation.
Would you like to join Friends of Art? Go to: http://www.wellesley.edu/davismuseum/joinandsupport/membership/about
Wellesley College Friends of Art supports the Davis Museum and Cultural Center, which has become integral to teaching and learning at Wellesley College. Your contribution counts toward College annual giving. Be sure to designate your gift to "Friends of Art."