In Memoriam--Catharine Wells
Catharine Wells
Class of 1968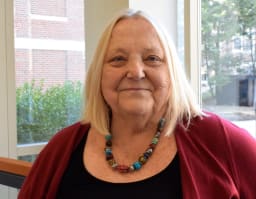 Boston College Law School Professor Catharine Wells, a nationally recognized expert on Pragmatism and its relationship to American legal theory, passed away on March 7.
"The loss of Catharine is a terrible shock for all of us," said Interim Dean Diane Ring. "She made significant contributions to both this law school and to legal scholarship, but more than that, she was a cherished colleague and friend over the many years we have worked together. I will miss her sharp mind, quick wit and enthusiasm. My thoughts are with her family and friends during this difficult time."
Comments related to Wells's recent book, Oliver Wendell Holmes: A Willing Servant to an Unknown God, provide a glimpse into her intellectual interests and capacity. One critic described the work as "elegantly written and filled with sparkling insight about the inner life of one of America's greatest judges."
Wells's legal journey headed early toward academic inquiry. She received her undergraduate degree from Wellesley College, her law degree magna cum laude from Harvard Law School, and her MA and PhD in Philosophy from the University of California, Berkeley. She went on to teach at the University of Southern California, Stanford University, the University of Arizona, and the University of Utah. At BC Law, as the Law School Fund Research Scholar, she taught and wrote in various areas, including Pragmatic Legal Theory, Feminist Jurisprudence, and Civil Rights Theory. She also taught American philosophy in BC's College of Arts and Sciences.
In addition to her book, Wells authored academic articles published in Harvard Law Review, the Michigan Law Review, University of Southern California Law Review, and the Northwestern Law Journal. Her topics varied. For example, her 2017 article in Texas Hispanic Law Journal, "Microaggressions: What They Are and Why They Matter," was a review of recent work on "microaggressions and explanation of their significance in the exclusion of minorities from participation in dominantly white communities."
Wells was also a leader. She served as Associate Dean for Academic Affairs at BC Law, and as chair of the Association of American Law Schools Section on Torts and Compensation Systems, and the Section on Teaching Methods. She organized numerous symposia, including one on Neo-Pragmatism in American Law, which was published in the USC Law Review. She was also a member of the American Law Institute. Her resume included a period as Assistant Attorney General and Director of the Division of Public Charities for the state of Massachusetts.
Further insight into Wells come from other critics of her book. One wrote, "Professor Wells skillfully and knowledgeably portrays Holmes, his life, and the influences upon him, in their complex entirety. She takes us through Civil War combat into science, religion, philosophy, and law. Weaving them together, Holmes is renewed as a compelling standard for the continuing challenge to our national intelligence and purpose." Another commentator noted: "This innovative study places Holmes within the transcendentalist, pragmatist tradition and thereby unlocks his unique identity and contribution to American law.
Musing on those observations, one might also say that in her own right Wells set a compelling intellectual standard for her students at BC Law and was herself a unique contributor to American law.