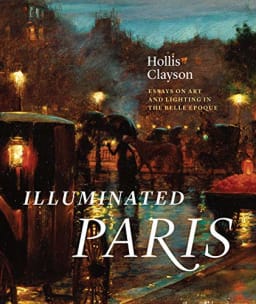 Susan Hollis "Holly" Clayson reports "Pandemic 2020-21 has been plenty weird because, after 35 years teaching at Northwestern University, I retired on September 1st, 2020. The best time to retire? Or the worst? My last course at Northwestern (spring 2020) was a grad seminar on Zoom, the conference organized to celebrate my retirement was canceled ("postponed"), and the dream of an activity-filled retirement has of course been thwarted by COVID. Three bright notes: my 2019 book (Illuminated Paris: Essays on Art and Lighting in the Belle Époque) continues to garner interest and reviews, my advisee Liza Oliver (Northwestern 2014 PhD) is a newly tenured Associate Professor of Art History in the Wellesley Art Department, and our adorable 3-year-old Brooklynite grandson Max will be joined by a brother in 2021. One more thing: as of January 2021, I've joined the faculty at the Evanston Art Center. Teaching what? You'll never guess: Art History." In addition, Holly has informed me that "two folks in my EAC class are Wellesley Class of 1968 😎."
Look on our class website (under the "news" tab) for the enchanting article, with pictures, about Susan Grose Rioff-Wood's wood working. She makes amazing furniture using found wood, branches and bark. And go to http://rusticafurniture.org/ Proceeds go to her worthy charity.
Marsh Forman Foregger displays a beautiful bird picture on our website captured in her back yard near her squirrel-proof bird feeder.
Did you participate in the recent survey from the College?
Lynne Williams Bair reminded me about it. She remarked "I've just completed the recent survey sent out by the College. Though I did it, I thought it had many limitations. I could not help comparing it to the fine survey of our class provided for so many reunion years by Kay Lehman Schlozman and Marilyn Averill. It simply didn't come close to the nuanced and revealing questionnaire they designed. To be fair, this latest all-alumnae survey was much shorter. But it felt generic, and it was also poorly timed. For example, it asks about one's psychological health. Whose state of mind and psychological health are tip top after a year spent with the restrictions, isolation, and fear generated by a terrifying pandemic?! If you want something done well, ask a Wellesley woman to do it!" Plus "one important point is that there are things I would wish changed about the way the College was 'then', they've been addressed by now."
Bobbi Lawson Benson had two grandchildren this year. Her daughter had a boy in April, her daughter-in-law in May.
Betty Jo "BJ" Pearce wonders how many of us still have two living parents. She helps her 100- and 99.5-year old's who are both ambulatory and 'with it' mentally.
Sadly, I report that Denise Roberts Polit died at her home on February 18th. She lived a full, remarkable life. I extend sincere condolences to her family and friends. Read more on our class website. https://alum.wellesley.edu/class-of-1968