About Reunion
Remembering Our 45th Reunion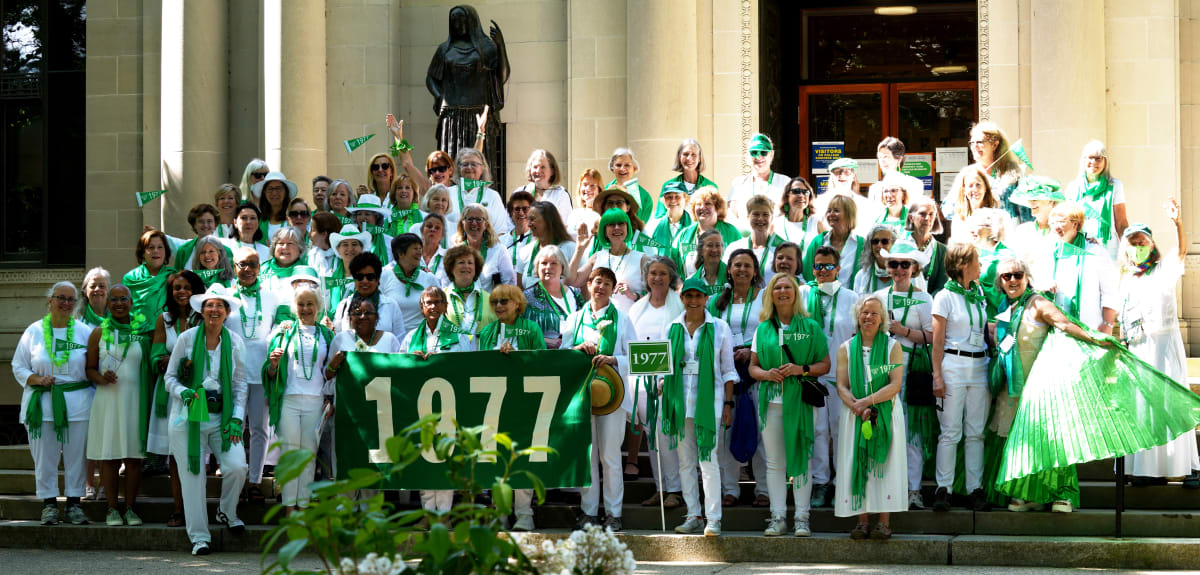 The 45th Reunion connected and reconnected 108 classmates from the Class of 1977. Thank you to the Reunion Planning Committee, led by Susan Stone, for innovative programs that made everyone feel welcome and engaged in the celebration!
Our post-Reunion survey reveals that we really enjoyed the special spark and connection our Reunion Planning Committee created: the Saturday night disco theme, decorations, and costume contest; the photo booth; dancing, dancing, dancing. Afterwards, many of us returned to Bates, where we had an ice cream social and watched Linda Coulombe Roybal's skillful rendering of the photos and videos we had sent her in what would become: Our Stories, Our Voices, Part One. If you submitted material for the video and did not see it in Part One, it will definitely be in Part Two.
Sixty-four classmates responded to the survey. Many respondents mentioned our Virtually Verdant online programs as one of the reasons they decided to attend this reunion. The virtual connections made during the pandemic inspired them to return to Wellesley. We plan on keeping our virtual community alive and flourishing by continuing to offer opportunities to share our interests. Special mention was made of the Wellesley Racial Justice Initiative, which celebrated its fifth year, thanks to the dedication of its founders, Michele Tinsley Leonard, Jessica Strauss, and Sherry Zitter. Laura Becker-Lewke's labyrinth and Helen Kriz Marshall's In Memoriam wall provided a time to reflect and remember.
Click here to see the survey results!
Everyone enjoyed Friday's cocktail hour, Sunday's Alumnae Parade, Step Singing, and lectures and tours. We loved the chance to be on campus together, to walk around Lake Waban, and visit old haunts.
We have proved ourselves remarkable in our recent gifts to the College. Mary O'Loughlin Rafferty, Co-Wellesley Fund Representative, expresses her sincere thanks and kudos to '77 for breaking a class fundraising record with the 45th Reunion. Class giving for the 12 months ending June 2022 reached 56.6% participation — a new high! It also included 27 Durant donors, and one generous classmate committed to giving $300,000 over the next five years. Our 45th Reunion gift totaled a whopping $1.89 million and represented the five years of contributions since our 40th Reunion in 2017. Gifts large and small all make a difference and are greatly appreciated. Special thanks to Frannie Wallace Robertson, who served as our Wellesley Fund Representative for the last five years.
Avis Hodge Seals set up the Class of 1977 Photo Repository.
We urge all of you to add to the wealth of memories Avis's page holds. Send the photos on your phone to Avis's link!
Don't miss the hilarious pictures of our classmates hamming it up in the Photo Booth.
Photo of "Persephone" courtesy The Wellesley News
Bates was completed in 1952 and is still one of the "new dorms." That has a nice ring as it's older than any of us!
Standing outside the Bates front door is the Persephone sculpture, designed by John Rood to resemble the bud of a flower with a hollow space that represents the figure of Persephone emerging from the underworld.