Record Book
Here's where you learn how to be part of our 45th Video Record Book. Submissions are due MARCH 18th.
Lots of things have changed since 1977, including our Record Book. For our 45th Reunion, we plan to create a video montage to mark the occasion – 45 minutes of professionally compiled and edited snippets of visuals and audio. Instead of the traditional book, the video will be made available to you for download after Reunion. The full video will be viewed at Reunion.
You are invited to share what is most natural and comfortable for you – still photos, video, audio. The visuals can include photos, selfies, videos of you and your life. The audio can include you speaking, performing music, reciting your poetry, etc. Even if you can't attend Reunion, we encourage you to contribute to this project. We want to hear from you and include you in the Class Record video.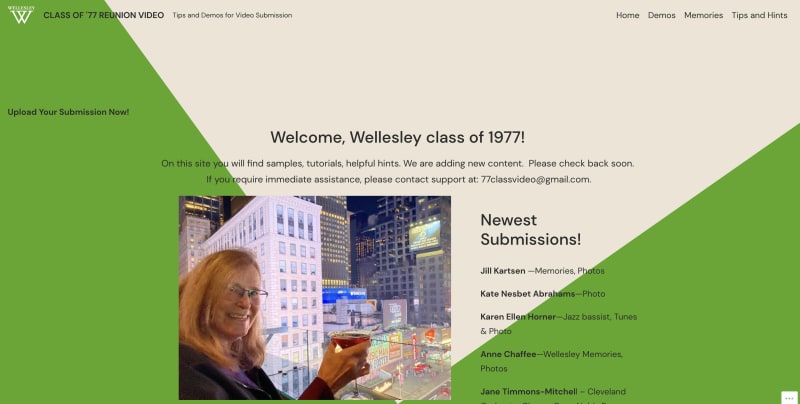 Check out the Class of '77 Reunion Video Tips and Demos for Submission at www.77reunion.com.
How will we put it all together? Check out these video samples.
If you run into a tech issue, don't give up! Contact Linda Coulombe Roybal (Class Record Video team chair) at 77classvideo@gmail.com and she will set up a call time to walk you through it.
Submissions are due by March 18, 2022. For tips, a tutorial, a recording of Linda Coulombe Roybal's "tips and tricks" workshop, and to submit your material, go to Class Record video info & submission site
SPECIAL REQUEST: We would love our musically talented classmates to send in video or audio of performances that we can use as some of the soundtrack. We also welcome the talented graphic artists and photographers in our Class to pitch in. Poets, as well!
Don't procrastinate!
1. Decide what you want to share with the class to mark this milestone.
2. Decide how you want to share it.
Written (Yes, you can send in an update the way you have always done it in the past! 😊 👏)
Audio
Videos
Photos
Any/all of the above
(No need to edit. We will do that as we integrate your contributions into the video.)
3. Create your submission and if you have problems or questions: Reach out to Linda at 77classvideo@gmail.com.
4. Submit as often as you like – but don't delay. For more information, please check out helpful hints.
If you have difficulty submitting any file because of size limitations, please use Google Drive to email those files to 77classvideo@gmail.com.
We will include as much as possible AND we are committed to keeping the video to 45 minutes in length, so editing choices will need to be made.
Let the reflection and recording begin!
Forever undaunted,
Your Reunion Class Record Committee
Linda Coulombe Roybal, Chair
Sarah Hosmer Lemaire
Mary O'Loughlin Rafferty
PLEASE FORWARD THIS MESSAGE TO '77 FRIENDS AND CLASSMATES YOU WOULD LOVE TO SEE AT REUNION!
The Class of 1977 40th Reunion Record Book from our last reunion is still available for you to view, download and print. We went green and did not mailing out printed copies.